If you want to promote your digital product, but you don't necessarily wish to pay further financial burdens… There are certainly other alternatives out there.
It took us a six-month period dealing with our costumers' high expectations and finally we are pleased to announce the release of the brand new Instabuck.
After examining our costumers' feedback about the initial release of our product, we decided to improve it with an array of key changes in the way things work. The main purpose of this release is to create a product even simpler to use, to provide a tool to the indie publisher that will make a difference.
So, what's new?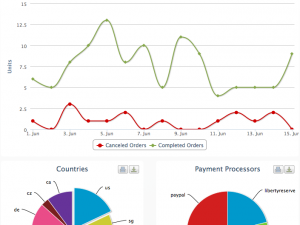 Let's start with the basics. The new service focused on the easiest usage from our costumer has many improvements in the user interface. Apart from removing any unnecessary things, we've added some helpful material.
Those are good news, but the real important thing about this release is our new payment system. The solution introduced makes our publishers free from paying a cut of their sales as they would do with our competitors. Another important thing is that you don't have any obligation to pay us when you don't sell. So with those in mind we invented the unlimited free trial.
So what this unlimited free trial is?
Actually, it is our way to help you start your digital product business. Create as many products as you want, use the service for as much as you want, and you will pay us only if the threshold of 3 sales in a month is exceeded. For each month that you have less than 3 sales you pay nothing. Fair enough, isn't it?
This release is just the beginning focusing on the creation of a solid base for a product that really helps indie publishers.
Try Instabuck today
We would love to have you onboard and even more share with us your thoughts about our product. After all it's totally free trying it.